An attempted missile launch by North Korea failed when it exploded immediately after liftoff, a U.S. official says.
An official said a missile was launched near Sinpo, North Korea, at 5:21 p.m. ET, and it exploded immediately.
The type of missile is still being assessed, and only one missile was fired, according to U.S. officials. It was unclear whether it was fired from land or from sea.
"U.S. Pacific Command detected and tracked what we assess was a North Korean missile launch at 11:21 a.m. Hawaii time April 15. The launch of the ballistic missile occurred near Sinpo," U.S. Pacific Command spokesman Commander David Benham said.
The United States and South Korea have deployed over 1200 aircraft to the Korean theater of operations and word is out today that the USS Ronald Reagan is now operations from Yokosuka, Japan, making it the SECOND aircraft Carrier strike group near Korea.  Full Story Here.
 US Pacific Command issued the following statement regarding the attempted missile launch: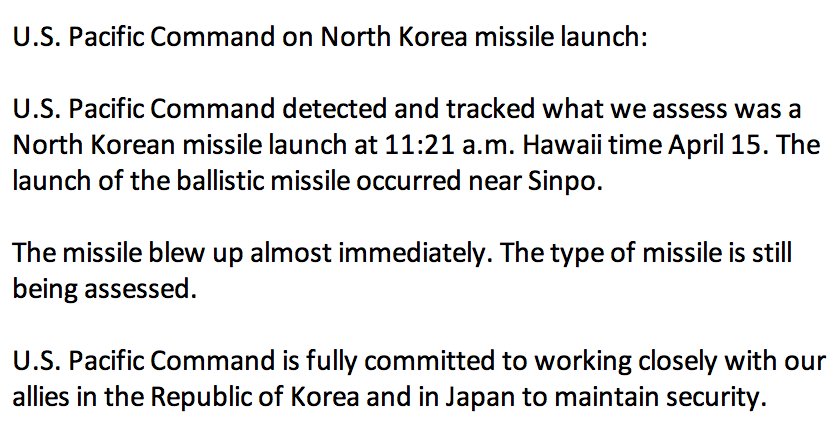 UPDATE 9:20 PM EDT --
South Korea has begun "Defensive Moves" in response to the North Korean failed missile launch.
BREAKING: Things are getting serious; PREPARING FOR WAR: South Korea conducts defence drills in face of Kim's provocation #NorthKorea

— Breaking News (@BreakingNLive) April 16, 2017